WHERE DID ALL THE GOOD PICKLES GO?

Hobbs couldn't find a good tasting pickle on the West Coast, so he started a pickle company to always have his own supply of the best New York pickles. Visit our original pickle tasting bar at Granville Island Market, or find us in over 100+ grocery stores in Western Canada.
Try our Jalapeño, Kosher Dill, Half Sour, Full Sour, Horseradish and Spicy Spears. Or if you're a sweet person we've got Honey Mustard and classic Bread & Butter. These are New York deli pickles that are packed old-school, right out of pails like the Lower East Side.
Enjoy them with friends, a cold IPA and charcuterie. Or like most people, eat them right out of the jar. You won't be the first person to polish off a whole container in one sitting.
We hope to see you at the pickle tasting bar.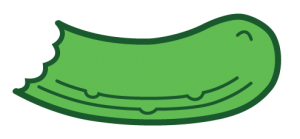 I WANT A GREAT PICKLE

For inquiries, questions, or to join our mailing list fill out the form below.
FREQUENTLY ASKED QUESTIONS
Q. Where can I get Hobbs Pickles?
A. Click here for a full list.
Q. Do you ship?
A. Not at this time. We are available however in most grocery stores in Western Canada and, soon to be in Ontario!
Q. How long do your pickles last?
A. Three to four months in the fridge for the vinegar pickles, the fermented ones (Half Sour and Full Sour) get softer but more sour.
Q. What is with all the plastic?
A. Reducing our carbon footprint is a serious priority for us, which is why we designed the Pickle Growler, it's an Italian lock-lid jar with an engraved pickle on it. Bring it back for a refill any time you need pickles. We also package all of our pickles in PP containers which are food safe and reusable.
Q. Should I keep pickles in the brine?
A. Keeping them submerged in the brine extends shelf life. If you find the brine getting low, cut the pickles in half and submerge them in the brine to keep them crunchy.
Q. Which grocery stores are you in?
A.  A LOT!!
Q. Do you sell fermented pickles?
A. We have Full Sour, Half Sour and Blazing Sour pickles. These are lacto-fermented. And you can only purchase these at our Granville Island Market location.
Q. Didn't you used to be called Kaylin & Hobbs, are these the same pickles?
A. Our pickles haven't changed one bit! We still make them in New York, for that authentic classic taste. And you can find them in grocery stores across western Canada. Or at our original Granville Island location; where it all started!
Q. Are they gluten free?
A. Yes.
Q. Is there sugar in your pickles?
A. Yes, in our sweet pickles.
Q. Can your pickles go across the border to the US?
A. They go all the time. They're not considered fresh fruit or vegetables so pickles are fine to cross the border.