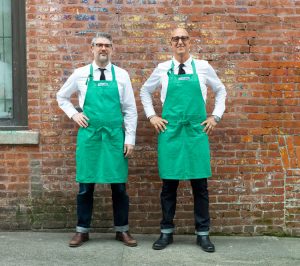 We're two guys from Vancouver (Chris and Scott) who just can't seem to find a great tasting pickle. So we decided to start a pickle company so we would always have our own supply. But where do you find the best tasting pickles?
That's easy, New York. Just ask Scott Kaylin a born and bred New Yorker who says "It's 120 years of pickle making history rolled into one great pickle." But it's a lot of things mixed together really, like good ingredients, hard work and a desire to stop at nothing until you get a perfect pickle.
We offer Jalapeño, Kosher Dill, Half Sour, Horseradish, Mustard and Full Sour pickles. All served deli style just like New York. And they're Gluten Free, Vegan and Kosher too. You can enjoy our pickles with a strong West Coast IPA, on a beach watching Floatplanes land, or simply leaning against your fridge.